One of the toughest decisions you need to make for your kitchen is the countertop. It's always challenging to choose the best kitchen countertop from so many options. The kitchen is the central part of the home, and you must choose the best one.
There are several kitchen countertop options ranging from expensive to cheap and provide different aesthetics.
Let's have a look at all the best kitchen countertop options that you can choose according to your budget, interior, and design elements. Remember, every choice has pros and cons, and you should consider them.
So take your time in going through all of them before making a subtle decision for yourself.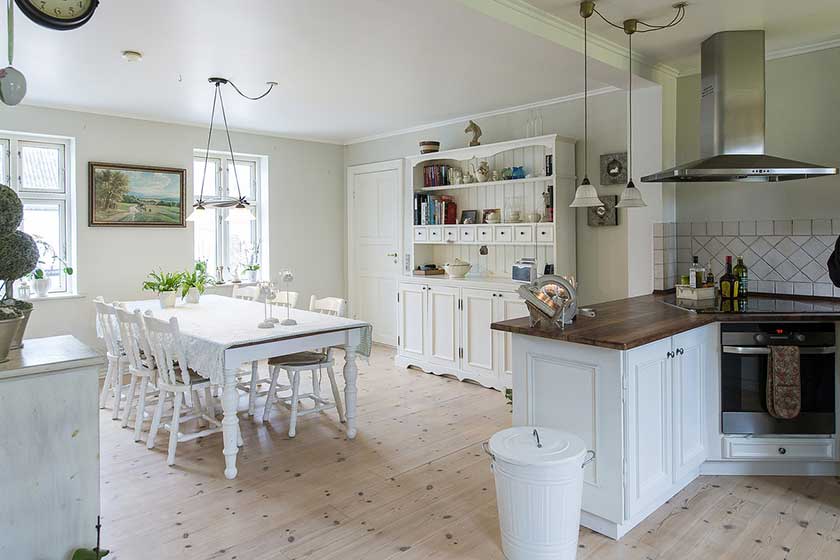 19 Best kitchen Countertop Options that you can Choose
Prepare yourself to see the best kitchen countertops options to build your dream kitchen.
1. Granite countertop
Granite is one of the trendy kitchen countertop options, especially in older age groups. According to a survey, it is clear that 43% of homeowners ranging between 30 to 54 age like the granite countertops.
Granite is the natural stone that is preferable for solid-state countertops. It comes in the whole slab in customized shape and design.
The professionals fit the kitchen countertops that didn't sleep in the water. Therefore it is a solid, heavy, and durable countertop in unique designs.
2. Polished granite countertop
The previous kitchen countertop option is a granite countertop. Now here is a polished granite countertop for getting the high-end looks.
No matter that granite countertop is also the best value for money. The polished granite countertop is a more durable stone with natural materials. It is a better way to add a more appealing look.
You can also get the perfect matching of your kitchen cabinet shades. The polished granite countertop is perfect, but it needs more care and maintenance.
But it can maintain a similar shine for a longer period. If you choose the polished granite countertop, then you have to develop the habit of regular wiping.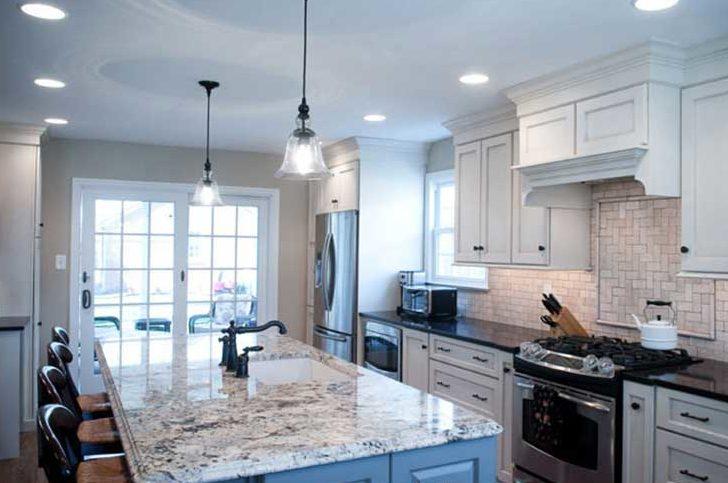 3. Marble countertop
A white marble countertop is a smart option. Suppose we say that half of the kitchens in society have marble countertops. It offers an eye-catchy look to visitors with pleasing and vivid white colors.
The marble countertop is not pure white. It also has light stains that give an appealing look. Therefore you can get stained marble to compliment your kitchen.
Furthermore, the marble cost is comparable to granite, but the marble is more porous. So you may face staining issues if not maintain its cleaning.
But, regular cleaning the countertop with the acidic cleaner will help hold its creamy and appealing look.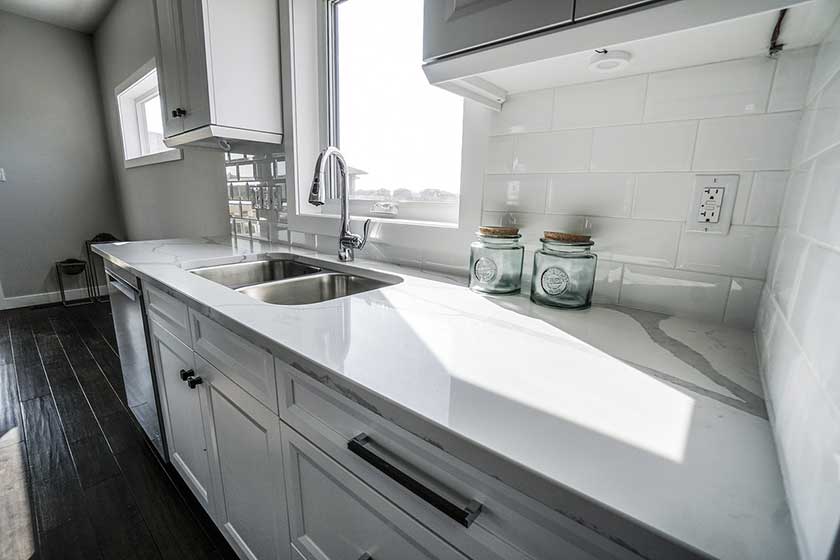 4. Slate countertop
Here is another natural stone kitchen countertop option that offers a traditional look. Slate comes directly from the earth like a stone, cut, grind, and installed.
It is highly natural than most of the other countertops. The prosperity of the slate countertop is less and entirely resistant to stains.
Now different shades of slate countertop are available other than the black and dark grey colors. Moreover, slate offers the most value to your money and lasts for years.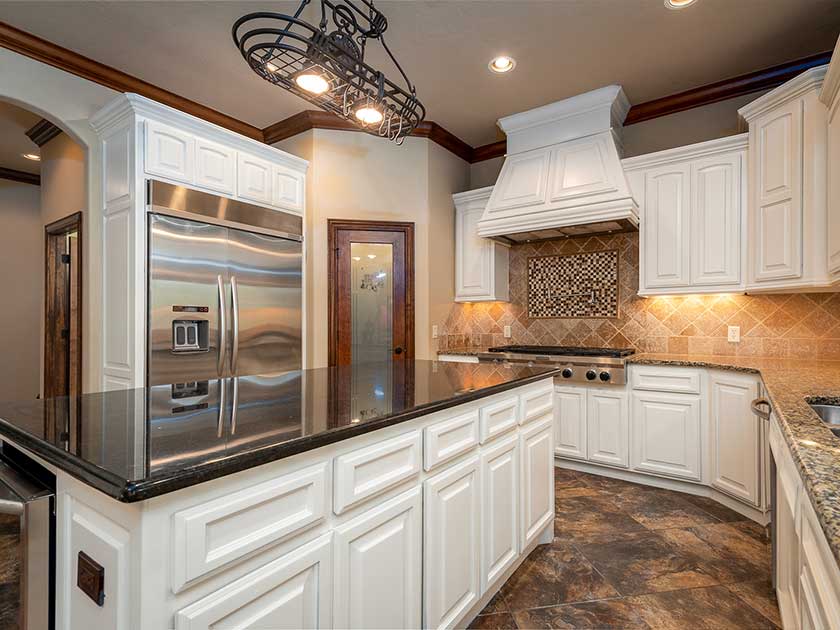 5. Ceramic tile countertop
Ceramic tile countertop is another modern option for kitchen counters. The base material is clay with the cement board core for adhesion.
The kitchen countertops look like tiles, just like porcelain tiles. But here is the catch, ceramic tiles are more attractive and cost-effective.
Plus, it is available in a variety of sizes that you can choose and install in different patterns. It is easy to install the tile and make diverse designs.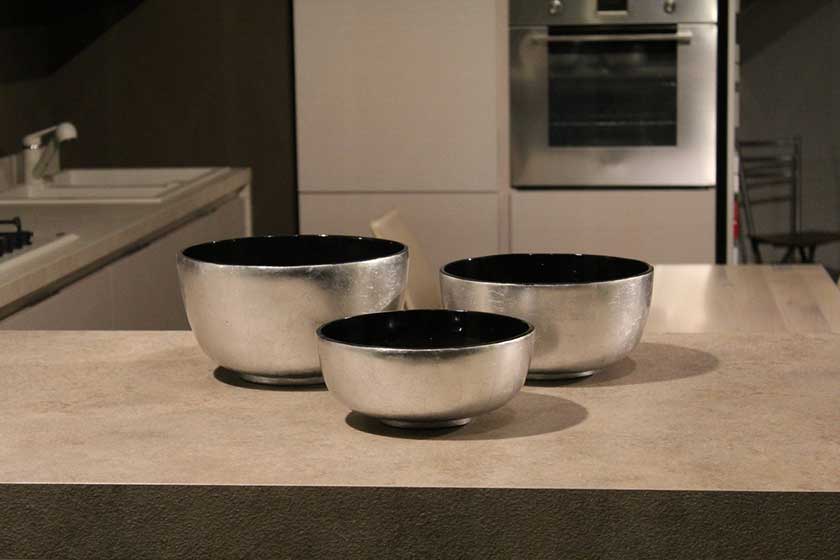 6. Solid surface countertop
If you want to achieve a minimal interior look, a solid surface kitchen countertop is the perfect option. A solid surface kitchen countertop is an alternative to stone options.
The concrete surface has synthetic acrylic and polyester materials with small stone dust. All these materials are collectively held at a place with resins. The professionals convert it into slabs and install it for the kitchen countertop.
You can get the customized solid surface countertop and integrate it with ends, including the sink areas.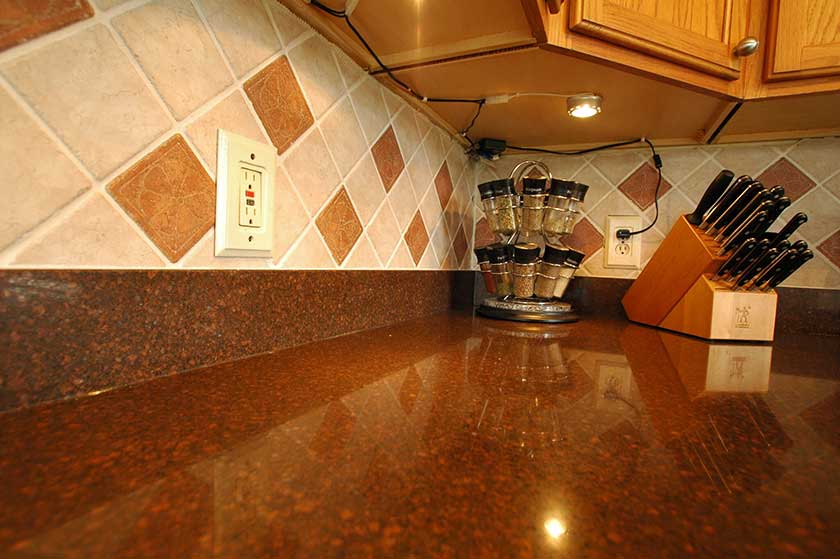 7. Soapstone countertop
Soapstone is the best suitable option for a kitchen countertop due to its high heat-resistant capacities. You may not be familiar with soapstone countertops as granite, marble, and others are more famous than them.
However, the soapstone has a warm, milky appearance that complements your kitchen interior perfectly. The color of soapstone countertops varies between white and grey.
If we talk about its hardness, it is less porous than marble and more rigid than granite.
In addition, it gives an antique look to the kitchen with high resistance to stains. You easily tick your kitchen cleaning checklist with a single wipe.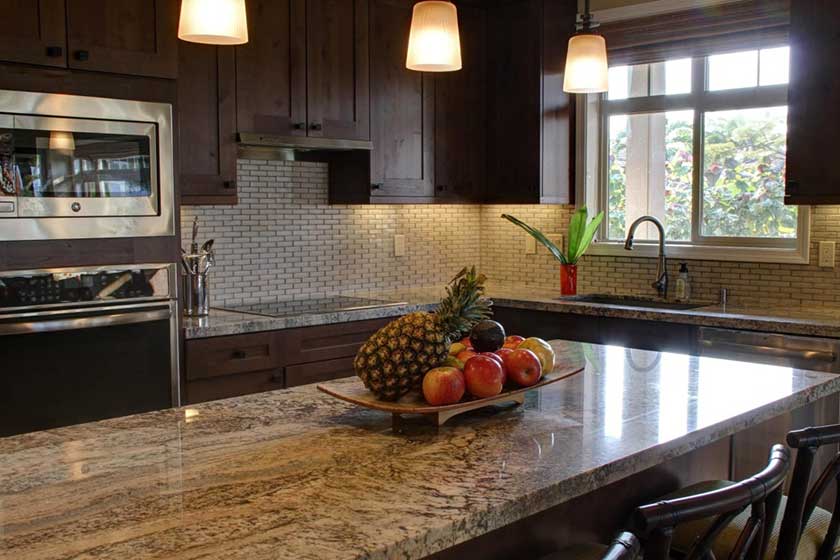 8. Recycled glass slab
Recycled glass slabs are an eco-friendly option. As the name shows, the countertop contains a blend of Glass in melted form.
The slab is beneficial as the countertop with various colors and styles. It looks like the engineered quartz and granite that is eye-catchy and incredible.
The recycled glass slab is also non-absorbent that resists stains. So you can clean it quickly to increase its durability.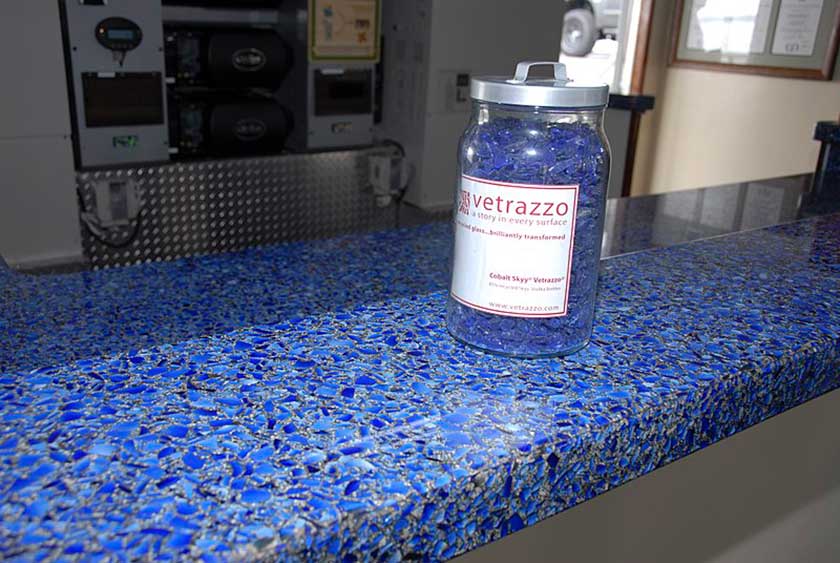 9. Concrete countertop
Concrete is a new option for kitchen countertops. If you want to get an unusual look for your kitchen, choose concrete countertops.
The concrete has many color and texture options. After polishing the concrete, you can get the shiny glam in your kitchen.
Moreover, concrete is easy to install and fits perfectly according to size. It is expensive but the perfect option for high-end houses to achieve modern looks.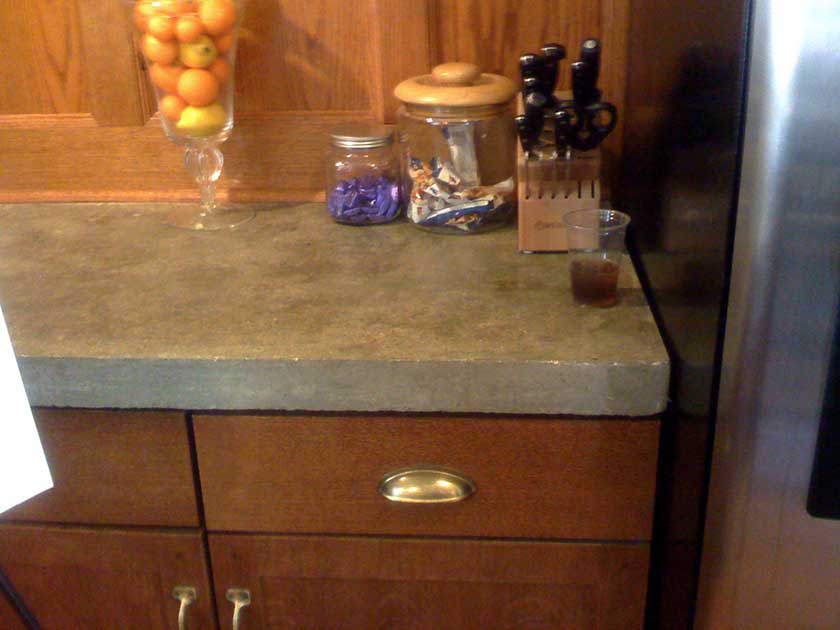 10. Quartz Countertops
Quartz is one of the highly selective kitchen countertop options. According to a survey, 42% of homeowners use the quartz countertop for their kitchen renovation.
It is easy to maintain and clean the stains from quartz material. Furthermore, quartz is acid, scratch, and heat resistant.
If you want to select the reliable kitchen countertop option, then quartz has different colors and patterns that you choose according to interior designs.

11. Honed granite countertop
The honed granite countertop is another granite variety. The previously mentioned granite and polished granite options are different from honed countertops.
And it has an excellent finish with a soft, traditional, and glossy look. The honed granite countertops are resistant to scratching, cracking, heat and chipping.
So, you will have a durable countertop that will complement your kitchen interior.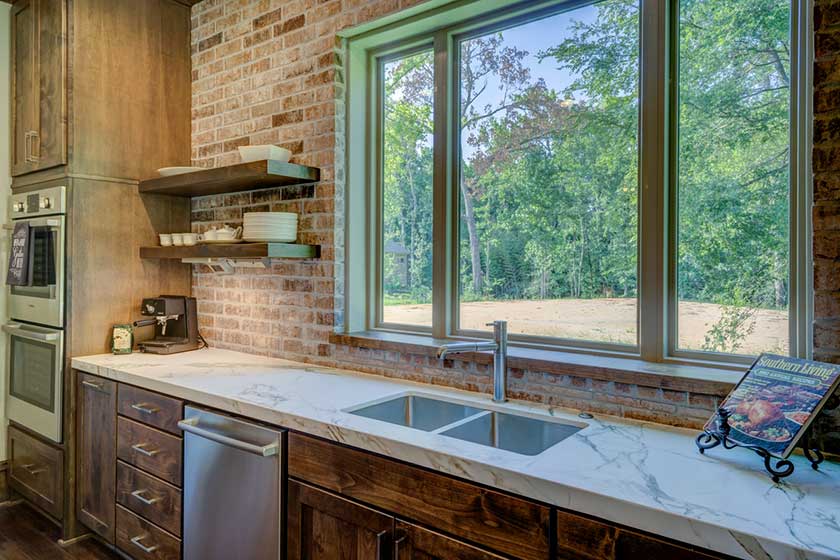 12. Paper composite countertop
The manufacturers strive to bring new creative ideas to home decoration and accessories. The paper composite countertop is also one of the innovative ideas after experimenting with many papers and composites.
The construction material paper has strong integration with the resin. You may find it similar to laminate, but it has paper-based material.
In addition, it is also an eco-friendly and unique idea to renovate the kitchen with cost worth countertops and a paper composite countertop is one best option if you plan to go with a ceramic hob.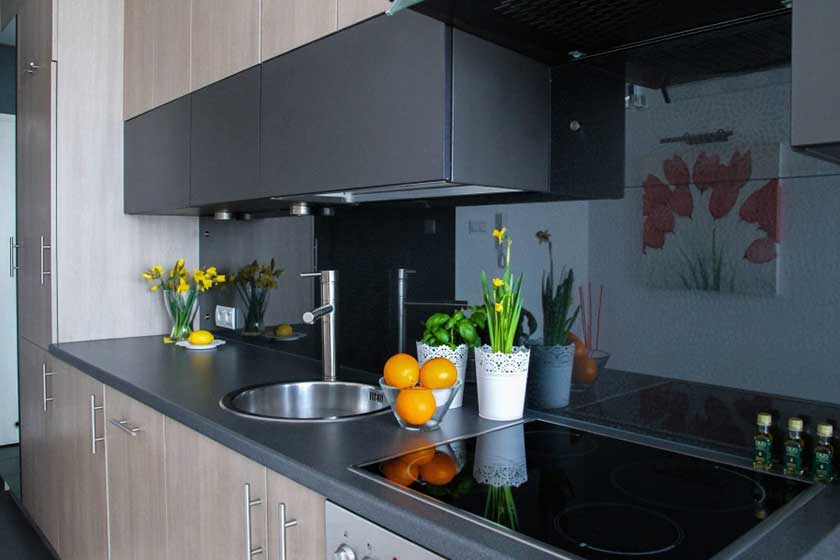 13. Zinc countertop
A zinc countertop is an unusual option, but best for unique kitchen looks. It has a zinc sheet over the base material.
You can commercialize the setting for different countertops like bars or dinners. Moreover, zinc is one of the old patina looks that give an eye-catching appearance in your kitchen.
The cleaning of zinc countertops is also easy. It is scratch-resistant, and you can clean it with simple whipping with soap or bars.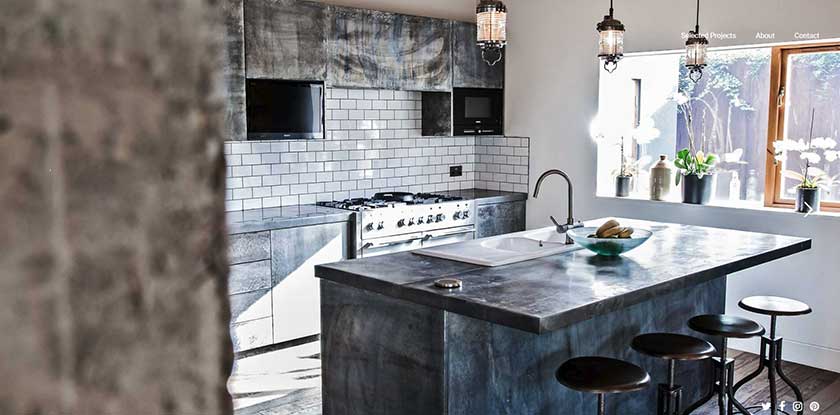 14. Onyx Countertop
Onyx countertop is the best option for big family kitchens. Install the onyx countertop if you want to bring new space to your kitchen.
It comes from precious stones that offer a tremendous innovative look. You can customize its design, including the curving breakfast bar, wine bar, and many more.
Therefore, it is one of the dramatic countertop options that you can install and bring creativity to the kitchen.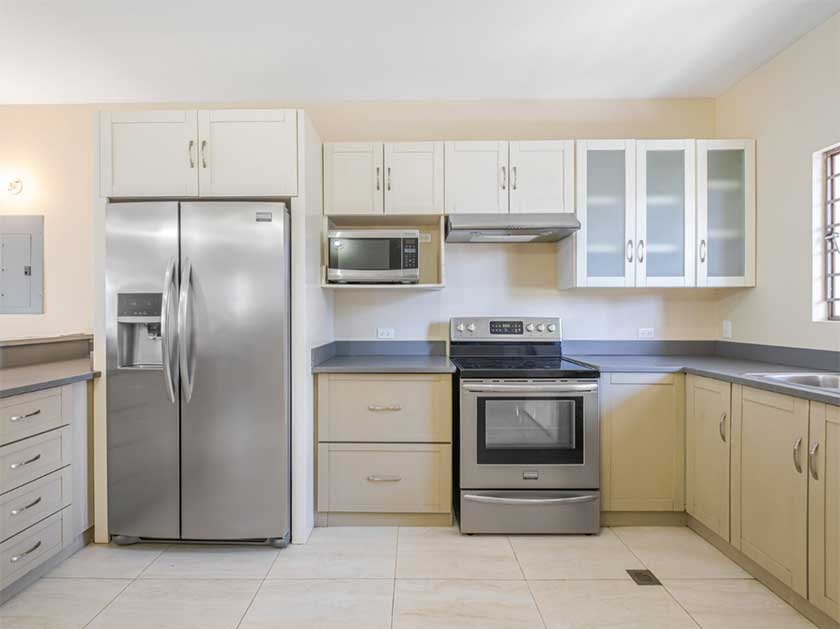 15. Silestone countertop
Silestone is a natural material with various colors and design options. You can choose a suitable option for your kitchen interior, ranging from bright and bold.
So. if you want to achieve a modern look in your kitchen, Silestone is another best choice. It is heat and stain-resistant due to its non-porous texture.
You can keep it new for many years with the same shiny look.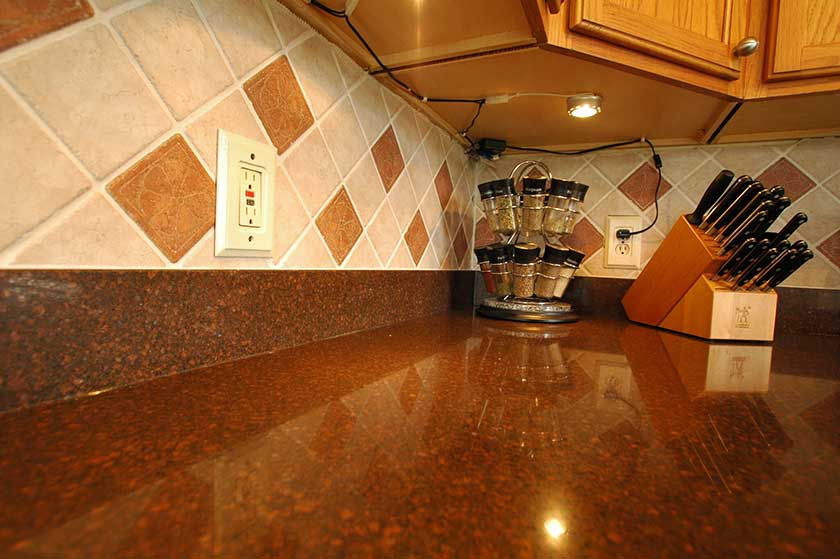 16. Wood countertop
Wood is a famous and trendy kitchen countertop option that also gives traditional vibes. If you want to install something decorative along with high functionality, then a wood countertop is a better option.
It is a cost-effective idea that brings more creativity in less amount. Wood is always heat resistant with proper preparation. Therefore, you don't have to worry about putting in the hot pots and pans.
The manufacturers of wood countertops always care about their water-resistant capacity. They mix it with other natural surfaces to make it waterproof.
So, if you go with the wood countertops, you don't have to worry about the durability.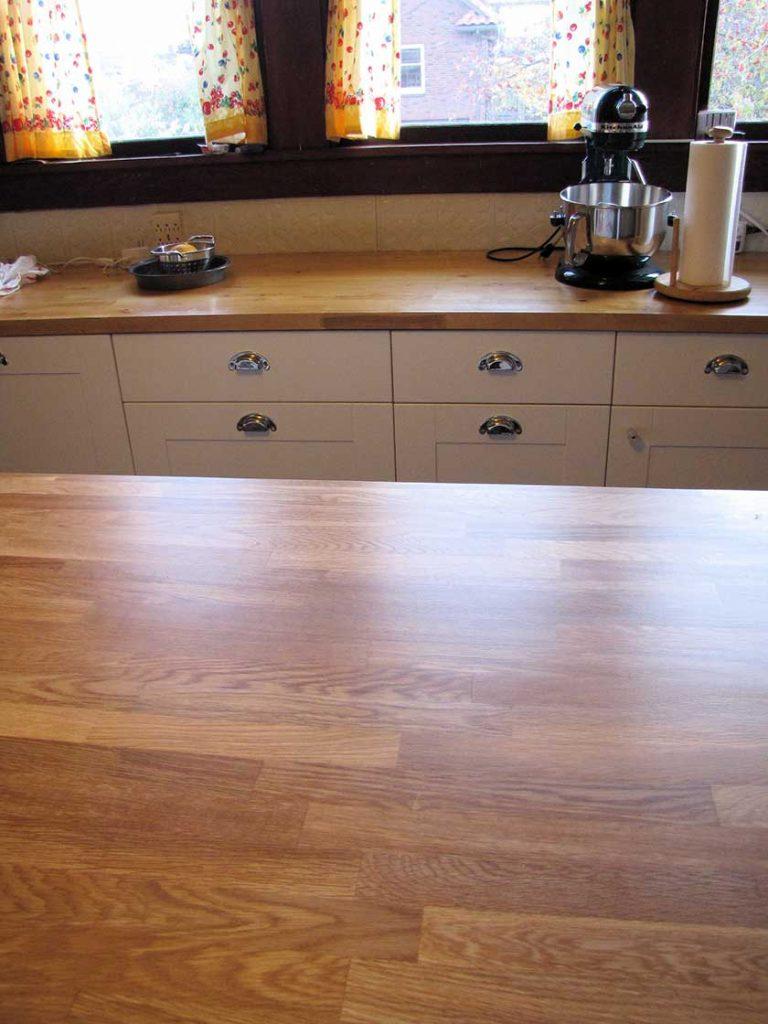 17. Travertine countertop
The travertine countertop is a classic idea from the old world. The kitchens have natural looks in previous ages, and they use travertine countertops.
However, the travertine has a pitted surface that needs proper preparation. If the pitted surfaces have no filling, they can trap the materials and become toxic for foods during cooking or preparation.
It clears that the travertine countertop is an excellent idea with proper preparatory steps. You can achieve an aesthetically beautiful look. Maintain its cleaning and bring an appealing texture to your kitchen design.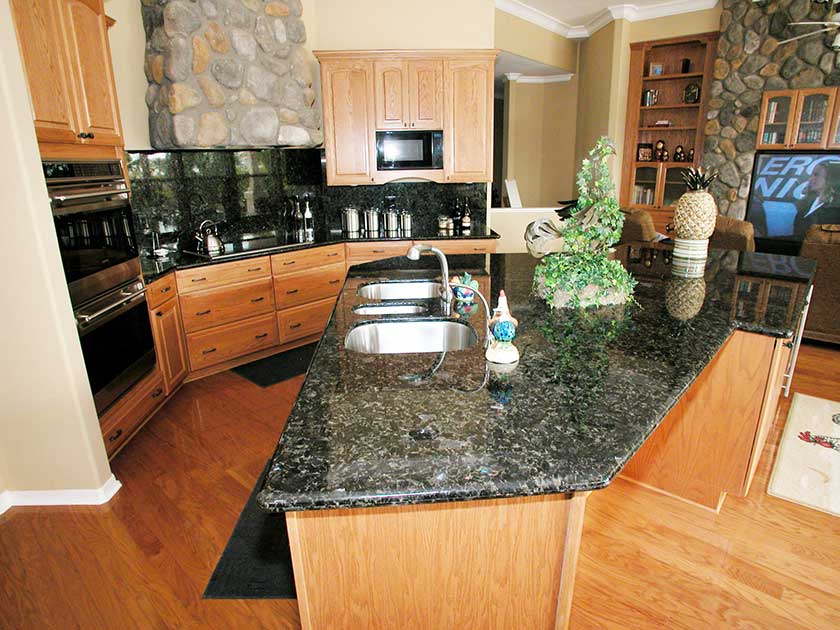 18. Laminate countertop
A laminate kitchen countertop is a budget-friendly option. By having the laminate countertop, you can enjoy a variety of new patterns.
It has natural stone, wood, or even quartz paneling. You can get the shiny and appealing look that complements your kitchen and home interior.
It has the saturation of colors that trends and gives a modern look. Moreover, it is easy to install the laminate countertop with DIY methods.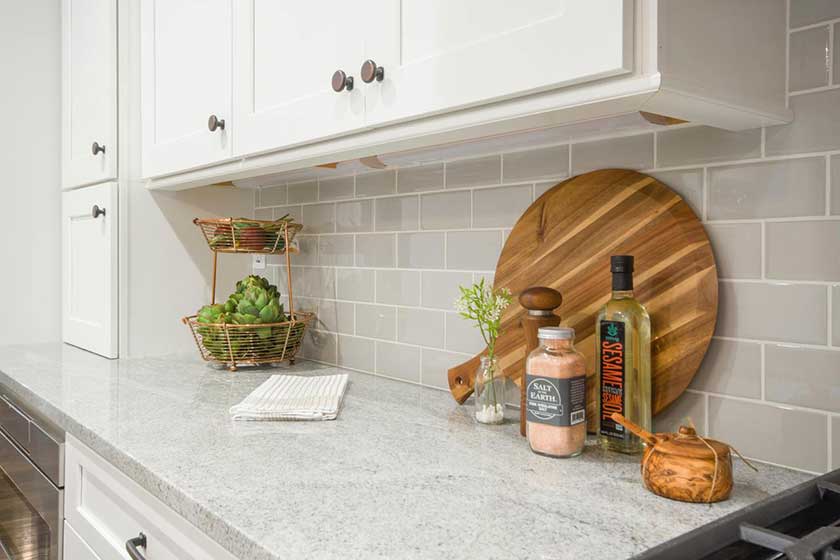 19. Stainless steel countertop
Stainless steel is a modern idea for your house as well as industrial and commercial kitchens. Stainless steel is metal that coordinates easily with any interior kitchen design.
In addition, the best thing is its cleaning. The stainless steel countertops or slabs are easy to clean with soap and cloth.
So, if you want to bring an aesthetic look with cost-effective options, stainless steel is the best option.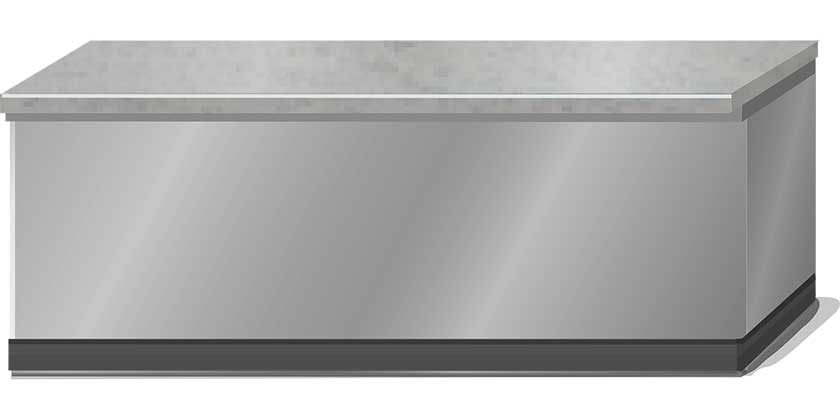 Final words
Now you have brilliant kitchen countertop options to learn and choose the perfect one for yourself.
Consider your budget, kitchen cabin color, or design and choose the best suitable option that ideally complements the interior design.