Stainless steel appliances can look quite appealing when you buy them. The shine and smooth finish can make your kitchen pop out. But, how can you clean your stainless steel appliances?
As we have heard, buying something is not an issue, maintaining them is the real deal. Stainless steel is difficult to maintain because it easily gets fingerprints that can make it look not so clean.
No need to worry. As intimidating as it may sound, by following a few steps, you can keep up with the shine of your stainless steel appliance.
What is the Grain of Stainless Steel?
Now you might be wondering what is this grain? And what does it have to do with cleaning my stainless steel appliance?
The answers to these questions are quite easy. The grain of any stainless steel can be described as its finish. The grain is fine striation or lines that you can see by closely observing the surface of your appliances, whether it is a ceramic hob, hood, or anything else.
Now, the question is, what does it has to do with your cleaning routine? You have bought the appliances so that they stay clean and shiny.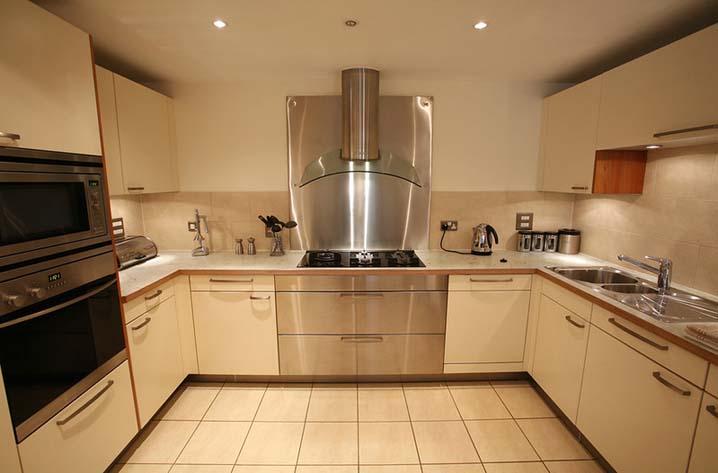 But if you do not consider the direction of your grain, you might compromise the shine of your stainless steel appliances. And we don't want that, right?
How to find the grain of stainless steel appliances?
The easiest way to find the grain is to look closely and see that the whole surface will have fine lines in one direction. While cleaning, you need to swipe in that direction to keep it shiny like a new penny.
You might be wondering if you do not go in the direction of the grain, will it ruin the surface? It will not be such a drastic thing to happen. But more dirt and oil may accumulate, making it not as polished and sheeny as we want it to be.
5 Ways to Clean Stainless Steel
There can be many combinations you can use to clean a stainless steel surface, but we are listing a few so that you can choose what suits you best.
White Vinegar and olive oil
Dish soap and baby oil
Club soda
Specific Cleaners
Flour
Also, if you want to keep your kitchen clean and fresh, you can follow this kitchen cleaning checklist.
1. White Vinegar and Olive Oil
White vinegar? That can be quite harsh. That is the first thought that comes into mind. But that is not the case.
Vinegar is acidic but just mildly helping dissolve the oily buildups, any sticky residue left behind by stickers, and marks left by hard water.
Olive oil is just added in for the shine. It acts as a protecting layer and helps you keep the shine of your stainless steel appliances for much longer.
How to Clean with Vinegar and Olive Oil?
Take a spray bottle and add the white vinegar. The spray bottle is for equal distribution, not to leave any marks.
Take a damp cloth, preferably a microfiber towel, to avoid harsh scrubbing.
Keep in mind the direction of the grain.
Wipe away any dirt and gunk on the surface.
Repeat as needed.
After cleaning, take another microfiber towel and put some olive oil over it.
Swipe the olive oil towel over the clean surface to add that extra shine.
2. Dish Soap and Baby Oil
Dish soap is something that is always on hand. You do not need to spend extra money to make your appliances shiny and clean.
Just is an easy, handy, and inexpensive DIY that will help you enjoy the newness of your appliance without going through a lot.
The dish soap helps clean out any oily material that may be stuck, fingerprints, and dust. It just emulsifies the dirt, which is then easier to remove.
Baby oil? Yes! You have heard it right. Baby oil can serve multiple purposes. Here, your appliance may seem a little dull after the dish soap cleaning. So baby oil will do the job to make it as shiny as new.
How to Clean with Dish Soap and Baby Oil?
Take a damp microfiber cloth and put a drop of dish soap on it.
Do not put in direct dish soap as it may lead to other marks and stains.
Following the direction of the grain, wipe off the surface.
Keep doing it until all the stains and oil is wiped off.
Take another damp cloth to clean any residue of dish soap and oil.
To give it the final touch, add a small amount of baby oil to the cloth and wipe it over the surface.
The oil will form a protecting layer, making it shiny and flawless and minimizing fingerprints' appearance.
3. Club Soda
Another daily use and inexpensive option for making your stainless steel appliances shine like a mirror.
Club soda is just normal water with carbonated gas. It can help clean the surface as well as any surface cleaner.
How to Clean with Club Soda?
With the help of a spray bottle, spray the club soda over the appliance's surface.
With gentle strokes in the grain's direction, clean the surface.
After you are satisfied with the cleaning, finish it off with a warm cloth.
4. Specific Cleaners
Before jumping into any DIYs, look into your appliance's user manual. The company may have suggested any specific cleaner for the appliance.
The company can also give specific instructions for maintaining the shine of the appliance. And it will be better to follow that to get the optimum results.
There are specific cleaners available in the market just for the sole purpose of cleaning stainless steel. They can do the job quite well, making the cleaning job much easier.
5. Flour
Yes, you have read it right. This one simple ingredient can serve more than you think. Some people claim it to be a game-changer in their cleaning routine. It is more useful for the stubborn stains in your kitchen sink.
How to Clean with Simple Flour?
Clean the surface with simple water, most preferably lukewarm water.
Dry it off with a paper towel to prepare the surface for some buffing.
Sprinkle some flour and, with the help of a towel, buff the flour with a light hand.
No need to do abrasive buffing.
It will help it bring out the lost charm of your stainless steel.
Things to Keep in Mind
Even if you know the steps for cleaning that surface, attention to detail is important. It is my personal experience that if you give that extra care, it can take the finish of the surface up a notch.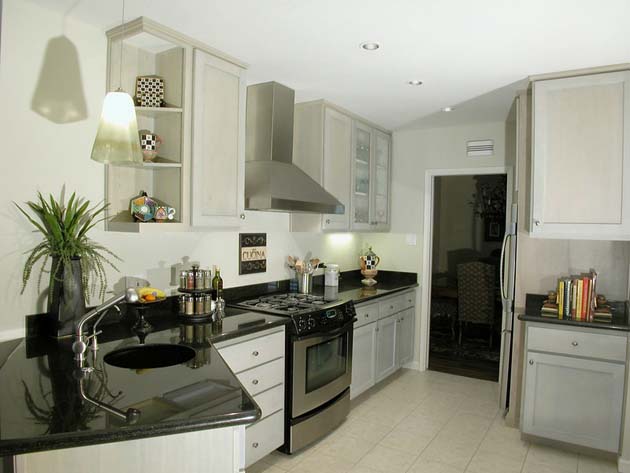 Use a soft microfiber cloth and towel.
Keep in mind the hardness of the water you are using. Hard water can leave hard-to-clean spots.
Avoid using any harsh abrasive tool for scraping the oil and dirt.
Remember to clean the surface with lukewarm water after using any agent to avoid forming any thin white film over the surface.
You may often think you can use bleach or chlorine to do the job. But they are not for stainless steel. Not let anyone tell you otherwise.
How Often Do You Need to Clean a Stainless Steel Appliance?
We think that by buying the appliance, the job is done. We need to understand and prolong its shimmering and dazzling finish. It would be best if you cleaned it.
But we have such busy lifestyles. Many of us are too busy cleaning the appliances every other day. Who has time for all this hassle?
All these steps may overawe you, but no need to get it all worked up. You can clean the appliance whenever you can schedule it.
How frequently you clean also depends upon how much you use your appliance. Your stainless steel stove may need a weekly clean and polish, while your toaster oven or kitchen hood may need a clean after a month.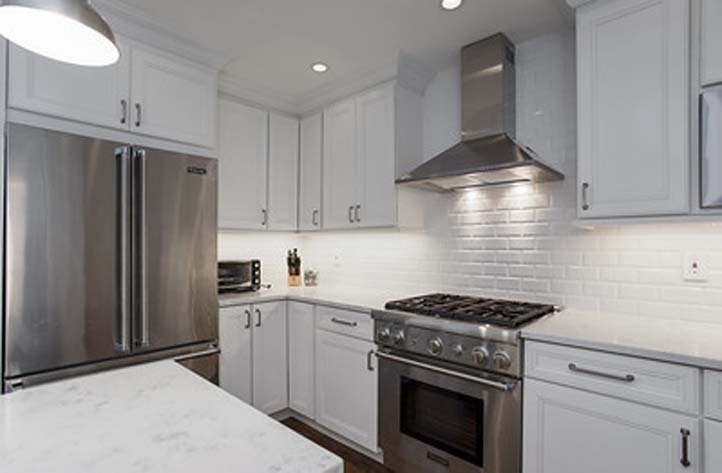 Your stainless steel sink may need daily cleaning at the end of the day as it goes through much more than any other appliances in your kitchen.
So, I would say it is just personal preference, how often you want to clean your stainless steel appliance. But it does need some maintenance now and then.
Final Words
"Everything happens in the kitchen. Life happens in the kitchen."

Andrew Zimmern
A cleaner kitchen can make you enjoy your time in your kitchen. Keeping your kitchen appliances as new is the first step to cleaning your kitchen.
And with the Do It Yourself options, it is even easier to maintain it. You do not need to sweat it. Just grab the things you already have at home, and voila! You have a cleaner for your stainless steel.
After you are done with the cleaning, you will feel that all the work was worth it. And you can sit back and enjoy the fine finish of your stainless steel appliances.