Cleaning the kitchen exhaust hood is what everyone needs to have a clean kitchen. We tend to clean and scrub every corner of our kitchen, but what about the parts we cannot see? 
The interior of your kitchen hood is one that often goes neglected. This negligence can lead to kitchen hazards as the oil and grease are flammable, leading to a house fire.
Why Do You Need to Clean Your Kitchen hood?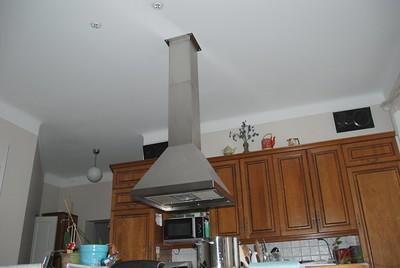 That is the first question that may arise in your mind when thinking of Cleaning the kitchen exhaust hood. The primary purpose is to avoid any hazards and make your kitchen hood last longer. I have made a heavy investment. 
The primary function of the kitchen hood is to keep the air clean from any combustion fumes, smoke, and heat. So, I do not feel the need to clean it as such.
But, let me tell you, your kitchen hood needs as much maintenance as any other appliance in your house.
Buying any appliance is one thing, but you will not be doing its maintenance as required. It will all be the same no matter how much you have invested.
If your kitchen hood is not cleaned correctly, even the highest quality will not last long.
Best Ways for Cleaning Your Kitchen Hood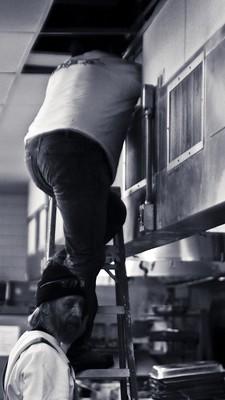 You are sitting on a winning lottery ticket. We will be explaining the ways you can clean your kitchen hood. Of course, you can get a professional team for this task.
But giving 400$-450$ for this task may seem a bit pricey to some. Some feel the need to do it on their schedule. And that is precisely why we are here.
The two methods traditionally used for kitchen hood cleaning are as below. However, if your kitchen hood is made of stainless steel, you can learn how to clean stainless steel appliances here.
1- Baking Soda and Degreasing Detergent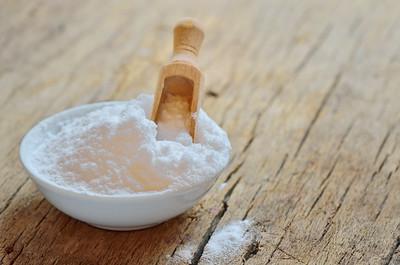 Conventionally, this is the most often used method for cleaning grease and removing tough stains that usually come with hectic cooking routines.
Things you might need
Baking soda
Degreasing liquid soap
Soft bristle brush
Damp cloth
Steps to follow
. Disassembly
You need to disassemble all the parts of your kitchen hood. This will help you clean the parts effectively and even the difficult-to-reach spots.
. Preparing the solution
Add ¼ tablespoon and a reasonable amount of degreasing liquid soap in some warm water. You can do it in a bucket or even sink, whatever suits you best.
. Soaking the parts
Now that you have prepared your solution, it's time to soak the parts of your kitchen hood such as the oily kitchen exhaust fan in the baking soda solution.
Let them sit in this solution for 15- 20 minutes, depending on the grease and stains stuck on the filters and fans.
. Brushing off the grease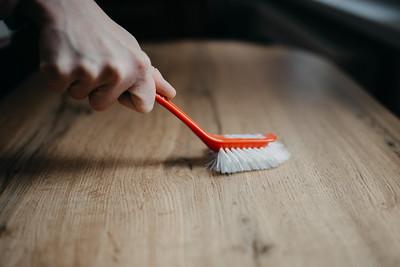 The baking soda and degreasing soap soften the grease, dirt, and grim. Now, you can easily clean the parts with the least effort.
Because we want ease at the end of the day, which is what baking soda will do. It will make your job much easier.
With a soft bristle brush, clean the filters and ducts. The brush will help you reach the areas where you fail to clean.
Do keep in mind not to scrub so hard that it damages the integrity of the parts.
. Washing with water
All the dirt and unwanted grease are scrubbed and washed to remove any leftover stains.
. Drying
You might think you are done with scrubbing and washing, and your job is done. But, let me tell you, if you skip this step and assemble your kitchen hood as it is, you might regret it later.
Remember to dry all the parts to rule out any water stains and rust or corrosion signs.
Benefits
This method effectively removes dirt and grease.
It can help combat any foul or unpleasant odor.
All the ingredients are cheap and available at home.
Things You Need to Consider
It might be possible that you are not aware that baking soda is a potent agent. If not used with caution, it will damage more than any good.
Remember to clean the parts after the baking soda bath, as it might leave a white film and might keep damaging the surface of your kitchen hood.
2- Pressure Washing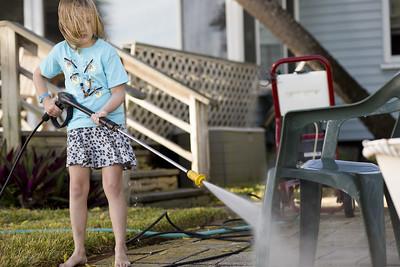 The second method for cleaning the kitchen hood is pressure washing. It uses high-pressure water for cleaning any mold, dirt, and mud. 
The forceful water pressure emits any grease and residue.
Benefits
Pressure washing your kitchen hood will make it easier to reach inaccessible areas.
Shortcomings
It might help in combination with baking soda as that helps alleviate the grease, and then the pressure wash will remove the stuck oil.
The pressure wash itself is not so good with adhering layers of oil and grease.
The exterior of Your Kitchen hood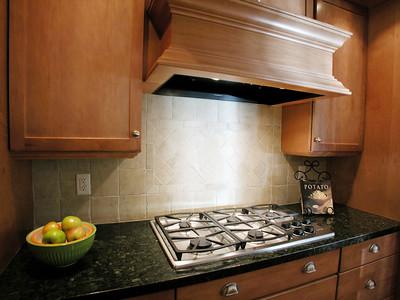 This is often cleaned as it is in front of the eye.
Spray the detergent and baking soda solution.
Let the solution rest for 10 mins.
Clean with a soft cleaning cloth keeping in account whether the surface of your kitchen hood is stainless steel or painted metal.
How Often Do You Have to Clean the Kitchen Exhaust Hood?
There is no hard and fast rule for this. Depending on its use, it would be best to clean your kitchen hood.
If you are using your kitchen for cooking big meals or if it is a professional kitchen, then it needs to be cleaned more often than in a kitchen where meals are cooked occasionally. 
Monthly Cleaning of Kitchen Exhaust Hood
Those kitchens have heavy cooking, such as restaurants or catering companies.
Quarterly Cleaning of Kitchen Exhaust Hood
Those kitchens working 24 hrs need to clean their kitchen hoods every three months to work properly.
Annually Cleaning of Kitchen Exhaust Hood
If you cook simple meals and that too not so often, you can clean your kitchen hood after a year or so.
When to Know It's Time to Clean?
You might be wondering how you would know that it's time to clean your kitchen hood. No need to worry. We have got it covered for you. 
You need to look out for a few things when working in your kitchen.
Black smoke from a room filter usually means that your filter is clogged with grease.
The motor is loud, or making any unusual sounds indicates that it's going through a lot of work to filter the air.
Unpleasant odors are also a sign that it's time to clean your kitchen hood. 
—
Last Words
Your kitchen hood is something that is often overlooked but needs equal attention. By cleaning the Kitchen exhaust hood, you will make your kitchen cooking pleasant and hazard-free and save you some money because, in time, maintenance will increase its life.